AJN ENGINEERING MANAGEMENT LTD
PROVIDING RAIL ENGINEERING SOLUTIONS
Below is a summary of some of the more recent projects which AJN Engineering Management Ltd has been involved in.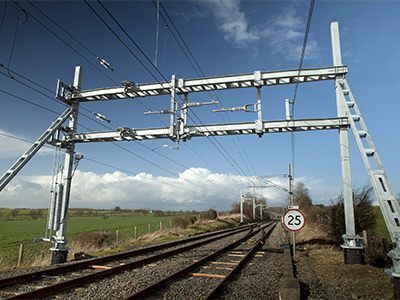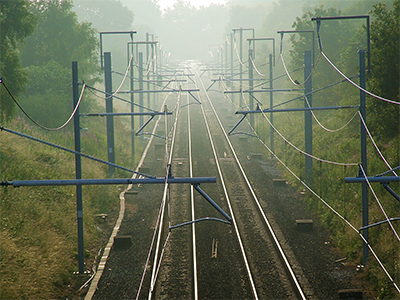 UK Master Series Basic Design Range
Role: Contractors Engineering Manager (CEM). The new Network Rail UK Master Series will replace the existing Series 1 and Series 2 design ranges and AJNEML are currently fulfilling the role of CEM overseeing and delivering the project. A number of companies are involved in helping deliver the constituent parts of this design range including Andromeda UK, Atkins, Furrer and Frey and Kumar Consultants. Careful planning and engineering co-ordination is required to successfully deliver this design to programme and budget and AJNEML are fundamental to that objective.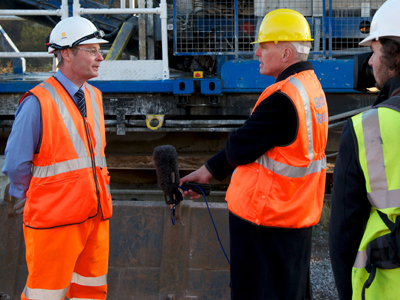 Recording an interview for Northwest Tonight about the progress of the Liverpool Manchester Phase 1 Electrification Project.
Northwest Electrification Phase 1 (Liverpool to Manchester)
Role: Contractors Engineering Manager (CEM). This was a multi-discipline project converting an existing diesel hauled route to new electrification with the associated signalling immunisation works provided by the sub-contractor Invensys. Andy (AJNEML Director) was responsible for all the CRE's assigned to the project. This included E&P, Signalling, Civil, OLE Design and OLE Construction.
This route is the first to use the new Series 2 range of equipment, utilising Italian Bonomi aluminium cantilevers and Tensorex C+ Spring Tensioners. Andy worked collaboratively with Network Rail, ensuring all designs and construction activities were delivered to a high standard. AJNEML believes Health and Safety should be taken very seriously and often carries out site safety inspections to ensure standards are maintained.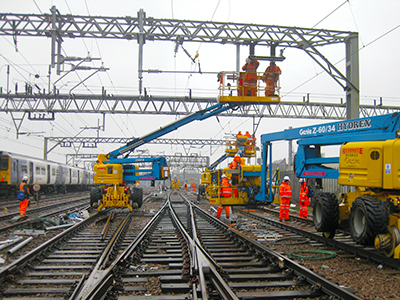 Great Eastern Improvement Project Bespoke Foundations
Role: CRE and Project Manager. Supporting Network Rail with the supply of bespoke foundation designs between Liverpool Street Station and Shenfield.
 Andy was responsible for the timely delivery of bespoke foundations to support Network Rail. 
Andy was CRE and Project Manager for this project which required site survey, client liaison (with Network Rails designer), and the co-ordination of a number of Balfour Beatty engineers tasked with the supply of challenging designs for a number of complex locations along the route.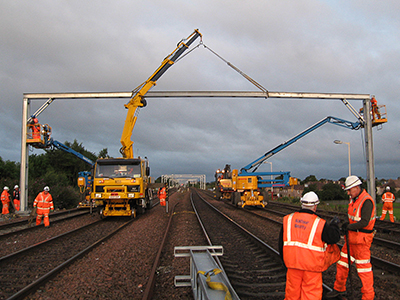 Airdrie Bathgate and Linked Improvements Project
Role CRE. Transport for Scotland has a commitment to increasing overhead rail electrification, resulting in faster, quieter and more environmentally friendly trains. A major step forward in this commitment was the reinstatement and electrification of the line between Airdrie and Bathgate and electrification of the line between Bathgate and Haymarket near Edinburgh.
Andy was pivotal to the delivery of a successful tender, carrying out site surveys, engaged ground investigation consultants, and managing a detailed study of ground conditions along the route.
On award Andy carried out a site survey of the entire route, recording topographical features, obstructions and features necessary for detailed concrete and pile foundation design.
Andy was responsible for the delivery of all civil and structural designs associated with this project including design approval and checking.